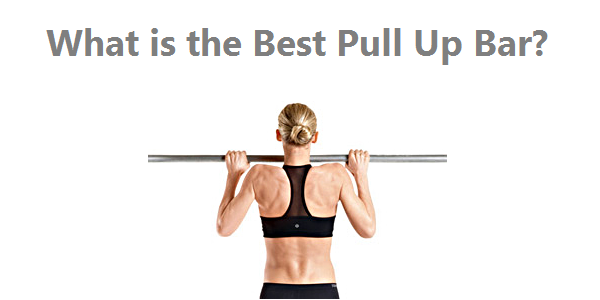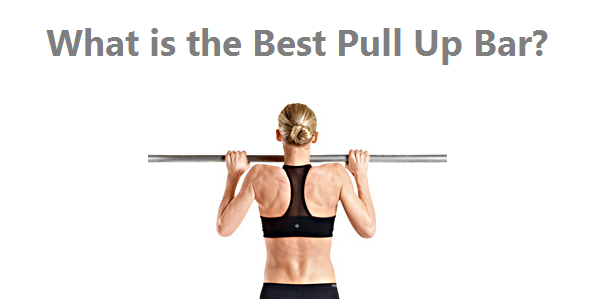 A week barely goes by without a new and innovative form of workout breaking on to the market.  Since the birth of Jazzercise in the 60s, the fusion of different forms of exercise has offered almost limitless possibilities for new products and routines.  But in this rich landscape, some staples of the training circuit are so elemental that they will never be eclipsed; the push-up, the crunch and perhaps the most iconic – the chin-up. In this article we will help you find the best pull up bar using pull up bar reviews.
Characterised by their simplicity, and relying mainly on resistance against your own body weight to strengthen and tone muscle, exercises like these require little or no equipment.  Chin-ups are the exception to the rule here and the market is replete with options to cater every need.  Indeed, it can be confusing when trying to work out which setup is right for your home gym.  Fear not dear reader, for what follows will demystify the process and make choosing the right equipment for you simple.
Best Pull Up Bar
[table id=4 /]
Pull Up Bar Reviews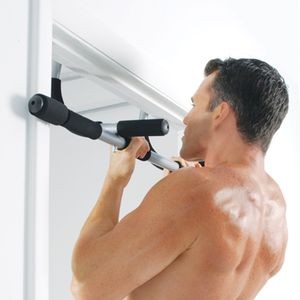 Save up to 50% on top rated Pull Up Bars on Amazon
Iron Gym Total Upper Body Workout Bar
This popular choice of upper body exercise pole offers a variety of different exercise opportunities in its compact frame.  It offers three varying grip positions for over hand and under hand reps; wide, narrow and neutral.  Once you are finished, the frame is able to be moved onto the floor where it is able to be utilised for dips, crunches and push-ups, making this piece an all round work out facility.
The ease of assembly places this pole at the forefront of its field of competition.  It can be placed in the doorway and used in seconds, and removed and stored just as easily.  The non-slip rubbered feet maintain a firm grip throughout your workout.
Made from heavy duty steel, it comes boxed at just 3kg, yet can support up to 136kg of weight.  In addition it has the benefit of being able to attach to most frame dimensions.
One salient downside of any doorway scaffold is its height; unless your aperture is unusually high, the reps will have to be performed with bent knees.  Furthermore 'kipping' (the act of swinging to gain momentum) is not possible with a door frame pole.
ProSource Heavy Duty Easy Gym Doorway Bar 
The feature which sets apart this pole from its competition is its installation opportunities.  Unlike most bars which provide very little choice in this field, the ProSource can be hung in a frame as a leverage bar, or be installed permanently as a wall mounted pole.  This allows you to choose between the ease and convenience of a temporary aperture mount, or the optimised height, strength and stability of a wall fixed piece.
Like many scaffolds on the market, this doorway bar offers several different hand positions to provide a comprehensive workout for the entire upper body, comprising the entire back, shoulders, arms, chest and abdominal muscles.
The steel can withstand loads up to 136kg, although some reviews have complained that it is unstable above loads of around 100kg.  Other complaints have indicated that the grips are weak and tear easily under stress.  Furthermore, as with many doorway mounted poles, there have been complaints that the exercise equipment damages the mounting surface.
Still, this piece occupies the lower middle section of the cost range and offers good value regardless of any concerns.
Sunny Health and Fitness Door Way Chin Up 
In the low end of the price spectrum, this equipment provides great value for money in a simple product.  For those who want a simple to install a scaffold with no frills and a low price tag, this is by far the best available bar on the market.
There are few better endorsements of a product than popular consensus, and the Sunny Health chin up rod has attracted almost universally positive reviews.
Like all telescopic poles, there are drawbacks to this apparatus.  Its installation position under the frame makes it a hazard both when in use (from the risk of banging the head against the upper limit of your door jamb) and if left uninstalled.  Also it has an inconvenient limit on its height, meaning reps must be executed with bent legs from the knees or hips.
Ultimate Body Press Wall Mounted Pull Up Bar 
Occupying the more heavy duty end, in both weight and price, comes this pull-up scaffold offering.  Although more than double the cost of some other rods, the features offered may justify the price tag.
As a wall fixed rod, this product provides far more stability in use than its door jamb mounted relatives.  Reviews are mixed as to how easy the installation is, with some claiming it to be very easy and others deriding the inadequacy of its instructions.  In any case, there now exists a number of online videos walking through the necessary steps to mount this scaffold.
Another advantage that this equipment holds over its frame mounted counterparts is its working area.  The parallel grips extend out into the room from the wall by 20 inches, leaving plenty of space for different types of workout which require more space, such as knee raises.
The heavy duty reinforced steel which the poles are fashioned from promises a long lasting product.  Meanwhile the foam grips provide comfort and grip throughout a long workout.  Having said this, some reviews online have complained that the grip perishes quickly and soon becomes uncomfortable.
Further benefits of a wall mounted exercise scaffold such as this include the possibility of adding accessories to the existing frame.  The company Ultimate Body Press sell gymnastic rings, push up rings and abdominal straps, all of which can be added to the existing structure to enhance your workout.
Go Fit Chin-Up Bar
The last piece in our top 5 is this entry from Go Fit.  A telescopic scaffold, its major selling point is its compactness.  If space saving is what you want then this is the pole for you.  Sitting, as it does, at the low end of the cost spectrum, this bar offers fantastic value for money.
Weighing just over 1.5kg, the chrome plated piece has foam grips to ease weariness on the hands and reduce the risk of injury.  In contrast to many other scaffolds, the foam grips for the GF bar are revered for their long shelf life.  In spite of its small size and weight the GF chin up pole can support loads up to 136kg.
It can also be fitted lower on a door jamb to act as a brace for sit ups.  In spite of its simplicity this product gives a comprehensive work out for a very low price.
The negativity expressed about the Go Fit rod mostly extends to its brackets.  Many reviews express that the brackets are inadequate for all apertures.  However the positive responses to this scaffold far outnumber the negative ones and it certainly seems that, for the cost tag, that this pole provides exceptional monetary value.
Why Buy a Pull-up Bar?
On the surface of it, this seems like a perfectly good question.  A sturdy tree branch in the garden or a thick beam in the garage or house could serve as a perfectly good addition to your gym equipment.  It's worth bearing in mind however that branches and beams were not made with your workout in mind.  Even seemingly sturdy tree branches have been known to snap under stress.  And, while supporting beams in buildings are designed to support great amounts of weight, they rarely offer the purchase for your hands that you really need to safely and effectively perform reps.
When you invest in a set of exercise apparatus, you know you are buying a piece of equipment that is designed for the purpose you are using it for.  With all thoughts of safety aside, you can get on with perfecting your workout.  That said, it isn't as simple as choosing whether to buy one or not.  There are many different types of rods to choose from.
Types of Chin-up Bar
Chin-up bars can be subdivided into five main groups.
Door Frame Leverage Apparatus
Setups like these are designed to interlock with an open door aperture.  Your body's weight keeps it securely in place as the weight is distributed and displaced to the wall above and either side of the frame.  These are usually sold with little or no assembly needed, so you can start doing reps straight away.  The scaffold's easy and swift installation and removal is a major feature, allowing you to store the bar when not in use.
These types of equipment are by far the most simple and space economising.  Typically they comprise of a single length of metal rod which can be lengthened or shortened by twisting the ends.  This enables it to be firmly wedged between the two uprights of a door jamb where it serves as the exercise equipment.
Wall mounted apparatus attach, as you might expect, directly to the wall.  This type of bar demands a specific amount of space as the installation is intended to be long-term.  If installed correctly, these types of equipment offer much greater stability than Door jamb supported bars.
As with the wall mounted bars, these are intended to be fixed permanently.  Like the equipment above, they also require an existing structure to attach them to, and offer stability and safety over the doorway apparatus.
These bars have an incorporated structure which supports the pole.  While they require the most assembly of all the bar types, they have the advantage of being self-contained and so can be put anywhere, even outside.  Many free standing poles come as part of another piece of equipment, such as a punch bag.
Which Ones Are Right For Me?
The first decision in choosing the right setup for your home workout is where you will install it.  As we have seen, all the poles are restricted in certain ways.  Should you choose a doorway mounted pole, you will be able to remove it and store it easily between workouts.  If space is an issue, then this is the type of rod for you.
If you want to have a permanently installed scaffold, like a wall or ceiling mounted pole, you will need a strong solid wall or beam to fix it to.  If you do not have either of these with suitable surrounding space to work in, you will not be able to use this type of setup.
Should you elect to buy a doorway beam, it's worth considering your needs.  Should you be only interested in doing pull-ups (overhand grip) and chin-ups (underhand grip) then the telescopic pole will suit your needs.  If, however, you are interested in exercising with other hand positions, then many door frame leverage apparatus have extra handles which allow for this.
While telescopic poles are removable and compact, they take a lot more time in setting up and taking down than leverage scaffolds.  If ease of setup and storage are a major influence in your decision, you should opt for doorway leverage scaffolds, as they can be set up in seconds.
On the other hand, if expense is your concern, you should look more closely at investing in telescopic scaffolds, as their simplicity renders them cheaper.
Free standing poles are worth looking at if you don't have a suitable installation point for the other scaffolds.  Most take up a lot of space and in many homes could realistically only be stored outside.
It's worth considering that repeated use of door jamb supported rods, both telescopic and leverage types, may cause damage to the frame.  While most are fitted with padding and foam areas to reduce the risk, it is an unavoidable side-effect of long term usage.  Should you have concerns about the aesthetic of your door frame and surrounding walls, you should consider the other pole types.
The final consideration, and a very important one, is weight load.  Generally speaking, the telescopic apparatus can support the least weight.  After that are the leverage frame poles.  The greatest load bearing poles are the free standing and wall/ceiling fixed rods.
You're good to go! 
Armed with the information above, you have all you need to select your apparatus.  The various designs mean there is a perfect choice for everybody to suit their individual needs.  With yours now apparent, you are just a few clicks away from doing your first reps in your own home.  Good luck, and happy exercising!