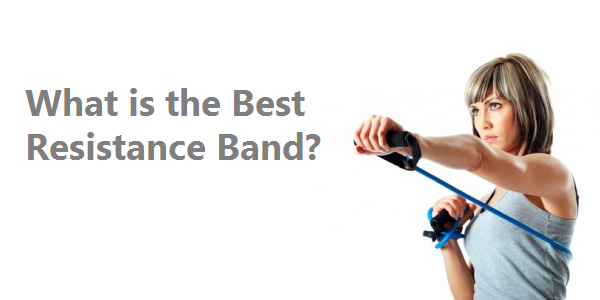 A tube, flat, or loop resistance band? Fit tube or clip tube?  Exercises or therapy bands, or fitness tubing? I know, this is all very confusing. Deciding which type of resistance bands to buy can be very tricky due to all those unfamiliar terms and different types of the product, but don't worry, I'll make it clearer so that you'll have a better understanding of bands and their uses, and even find the best resistance bands for your use using resistance band reviews.
They might bear many names, but a resistance band is at first a rubber strip employed for strength training and physical therapy or rehabilitation. Of course, it holds many more beneficial properties than you think, which you need to be aware of so as to make an intelligent choice and pick a type that fits you and your fitness goal.
Best Resistance Bands
We looked at several options and picked these three based on the quality, brand and real customer reviews.
| | | | |
| --- | --- | --- | --- |
| | Bodylastics | Aylio Ultimate | Black Mountain |
| Average Rating | (4.7 / 5) | (4.4 / 5) | (4.7 / 5) |
| # of Bands | 14 Bands + Other accessories | 7 Bands + Other accessories | 7 Bands + Other accessories |
| Real reviews | 52 customer reviews | 190 customer reviews | 88 customer reviews |
| Price | $$ | $ | $ |
| More Information | See Price & Availability | See Price & Availability | See Price & Availability |
Resistance Bands Reviews
Amidst all of the brands and types of rubber exercising tools, there are a few worth mentioning – the best ones. I've put five that are of great quality and diverse in order to please everyone, no matter what your needs are. Keep in mind to find the product fit for you.
Save upto 50% on top reviewed resistance bands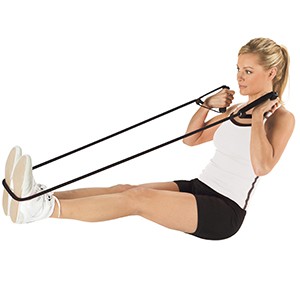 Black Mountains Products Resistance Band Set
It includes an ankle strap, cushioned foam handles, a door anchor and a carrying case along with five bands of different colors, which means of varying tension level. B.M.P., or Black Mountains Products, is based in Illinois and is a high quality manufacturer and provider of home exercise equipment.
For under $40 you get 5 bands of different levels, a door attachment, an ankle strap, a carrying case, cushioned foam handles, and a starter guide. It's a very good deal and an advantage because they usually come with few accessories, or when they do they're not as numerous and cost about the same.
The rubber used to produce the tubes are is of the highest quality and durability. Plus, when you buy it, you receive a manufacturer's lifetime warranty – what's not to like about this? If ever you want to exercise using another range of resistance, know that you can combine the bands without having to exasperatedly work with many handles. It makes it quite easy to use and a good fit for anyone.
Unfortunately, there's only one pair of handles which make it a bit more difficult to train with many tubes at the same time like some do, or even for a couple to exercise together and such. Also, despite its high tension of 75 lbs. tolerated and possible through combinations, there are other products that offer even greater resistance.
SPRI Xertube Resistance Band Exercise Cords – A Simple Start
The SPRI Xertube kit contains five colored bands and a strap made to better stash it where you want to. There's also a door attachment, which is sold individually. SPRI Products, Inc. is a manufacturer and distributor of resistance exercise equipment made out of rubber that it popularized and has been the leader in this kind of workouts.
It's a continuous band that is so light it's easy to carry it around with you in a bag, and you can exercise quickly with this product. It's perfect to isolate the target muscles and it allows you a great deal of possible movements and training. Its inexpensiveness is also something to consider greatly as it's about $10.
They come in five colors (or resistance levels), which is always interesting for all types of people and depending on what kind of training you want to tackle. Moreover, the tubes' length varies based on what level you pick – this is a funny and helpful particularity I haven't seen elsewhere. It helps you progress at your own rhythm.
Besides a small strap to roll up the product so you can better put it in your bag or simply transport it, there are no accessories of any kind which makes it very ordinary and might become boring after a while. You may even feel a bit limited in your training, mostly because you cannot combine them to try more levels.
Aylio 3 Loop Bands for Exercise (Light, Medium, Heavy)
Aylio's set includes three rubber bands that form a loop due to their ends being connected, and are thick and made from high quality rubber that lasts many years. They also come in three different colors, a.k.a resistance levels, and are perfect to train your lower body and for people in rehabilitation or physical therapy. Aylio, created in 2008 by Max Krishtul, produces home workout goods.
Finally a product that thinks about the most forgotten parts of our body! Aylio's product helps strengthen your hips, legs, ankles, knees, wrists and calves. It allows you more training movements and flexibility, and allows you exercises the classic training doesn't have while letting you explore more possibilities, making all of your body healthier. Plus, it's backed by a lifetime warranty.
The best property of Aylio's loop bands is how beneficial it can be to people in physical therapy and rehabilitation, which it's highly recommended for.
There's only three resistance levels, which is bad news for all those who love to push themselves further, or simply have fun trying and showing off.
JS Fitness Resistance Band Set
This set, made for staying lean and losing weight, contains five latex resistance bands that can be stretched to five times their original size, two foam handles, two straps, a carrying bag, and a door anchor. JS Fitness is a small company that provides diverse fitness training equipment.
These bands' biggest advantage is that they can stretch up to five times their original size, which makes them perfect for tall people, and all the while being safe. They're also a good addition to a physical therapy or rehabilitation. Plus, they come with a carrying bag and a few accessories.
You can easily use them while watching popular fitness programs like P90x, 10-Minute Trainer, etc. In addition to their lightweight and portability, the JS Fitness bands are entirely made of latex tubes that have been dipped so they're continuous.
The 90 days warranty is a downside compared to the other products of the same kind that offer lifetime warranty from manufacturers. Its price (about $30) may be a bit discouraging to beginners.
Bodylastics Resistance Bands Set
This Bodylastics 12 pieces set includes five anti-snap exercises bands, a 3×4 ft. wall chart, a carrying case, a free three months access to tubes workouts on Live Exercise, two Heavy duty cushioned foam handles, two Heavy duty ankle straps, a lifetime warranty, and one Heavy duty door anchor.
Bodylastics International Inc. was founded by Blake Kassel, a bodybuilder who didn't find satisfaction in any other resistance equipment and decided to create his own. This company was the first to invent a tube that doesn't snap.
Thanks to its quick clip system, these tubes can vary between thirty-three levels of resistance going from 3 to 96 pounds. Although this is very impressive in itself, its greatest property is the 99% Failsafe Snap Guard technology! That is quite an interesting feat considering how many are apprehensive of their bands snapping.
The Bodylastics 12 pieces set is a good deal for about $30 with all the equipment it contains and the free three months access to workout videos to get you started. The materials are of the highest quality, and the wall chart is a well-thought addition for it shows you how to do specific movements and train. A must for beginners or people who want to explore different ways to do their training.
The chart size is way too exaggerate. Most people don't have the space to hang it onto their wall, or they don't want to. A smaller version would have been preferable, or a book. The free three months access is both cheap-looking compared to the price you pay and is a trap because if you forget to cancel right before the fourth month starts, you'll have to pay.
Why Should You Buy One?
Resistance bands (or also tubes) are exercising tools made out of latex or rubber with handles. Easy to store and carry with you thanks to their light weight, they're excellent for travelers and won't give your house a hoarding sensation.
Their main use is for strength training and they're also very useful for people in need of a physical therapy or rehabilitation. With their different lengths and resistance levels (which are mostly categorized using colors), they work your muscles and are an overall plus in your fitness workout results.
Time Management: They're great to squeeze in your too often loaded schedule because even if you cannot go to the gym, the bands are there for you! You can exercise at home without having to rush over to the gym and stress, thus wasting the welcome relaxation that comes with training.
Routine Killer: Are you bored of the same humping jacks, or pull-ups? There's no end to what you can do with a resistance band! If you wish to follow your routine and add a few exercises with those – go ahead, it's easy. However, if you prefer to try different ways to tackle your training, you'll find more manners than you ever thought possible with rubber bands (or tubes, for that matter).
Economic: Their low prices are a very good deal along with their quality of training. It usually ranges from $15 to $40, and combined with all the time you save by staying at home and the number of exercises you're able do with them, it's a highly competitive price to all those gym subscriptions and work out machines.
Lightweight: Since it doesn't weigh much, a resistance band is quite easy to carry. It doesn't take much space either and it's quickly put away, or into your training bag whenever you need to go to another location, or even travel. You can take it anywhere with you, thus making the task of following your training schedule easier and reaching your fitness goal ever closer! 
For their satisfying results, the change of routine they offer, and their low cost altogether, resistance bands are really worth a try! However, you must never make a choice without having explored the various types offered to you.
Different Types of People, Bands and Levels
Everything comes in types and these are no exceptions. There are three types of bands whereas as many levels as you want, though four is the average. The materials they're made of and the uses you can find out of them divide them while colors and weight do the same with levels. There's always the right exercise tool for you!
Tube bands: They're made either of rubber or cord and are perfect for working your upper body muscles and the sides of your body. Their length varies as well as the resistance level possible. Depending on which you buy, they might come with cuffs, door attachments, plastic handles (though they're usually foamy for a better and more comfortable grip).
This type of band is subdivided into two groups: fit tube bands and clip tube bands. Fit tubes are shaped like a tube and have handles on both ends, and they are great for the lower body.
Clip tubes enable you with their rubber latex clip tubes, plastic handles on each end and cuffs to work out as if you were doing machine-cable exercises, and they can also be clipped to another band so as to produce more resistance. Their many accessories and the two categories often make it confusing, but they're still the best for a general workout.
Loop bands: They're flat and long strips of latex that are used to exercise your lower body and can even be looped around the ankles for an even more thorough training. They actually form a loop due to their ends being connected. Since they don't have any handles, they're a bit harder to manipulate, but they're great for a lower body training, which is often forgotten in a fitness plan.
However, if you don't need the whole body training type due to any reason (perhaps you go to the gym) and only want to keep a sadly less prioritized part of your body healthy, loop bands are the answer for you. Plus, as a training tool for people in rehabilitation and physical therapy, they are very helpful.
Flat bands: Wide rubber strips that vary in length based on your required level and the use you want to make of it. They don't have any handles which make them a good fit for lower body workouts and they adhere well to the body. Moreover, they cost about 20% less than tubes, and this is without taking accessories into account. 
Resistance Levels 
Light: Perfect for beginners or people with health conditions and elderly. They're usually about 4 to 6 pounds. 
Medium: With its resistance of about 8 to 12 pounds, the medium level is a good solution for most people who wish to have a general workout. 
Heavy: The heavy resistance level is perfect for those who are used to working out regularly and wish to improve their strength and health. In other words, for those who want to take it further with those 12 to 20 pounds. 
Extra-heavy: This level is usually for those who are quite experienced and strong, and are in need of a challenge, or a good occasion to show off. The extra-heavy resistance is usually about 20 pounds and more.
With all these different types of bands and their resistance level, it can become a tough and tiring task to pick the right one for your training needs. So, how does one choose their resistance band?
How to Pick the Best Resistance Band for You
Now, every person is different and we all have our own needs. However, there are general things to look out for in exercises bands in order to make sure they're a right fit.
Training: Do you know what kind of training you'd prefer? If so, perfect!, then you are one step closer to having your own resistance band. If not, think about it very carefully because it is an important matter.
Do you wish to train your lower body, your upper body, the sides of your body, or simply break the routine? Also, are you pondering over buying an exercises band because you want to increase your fitness results, a quicker and transportable exercising tool, or simply break the routine?
The choice of training is crucial if you do not want to end up with a useless band. For example, a lady in need of rehabilitation would pick the loop bands whereas a traveling businessman lacking time for his workouts would be better with a tube. It all depends on the kind of training you need and what you're willing to do to reach your fitness goal.
Accessories: Some come equipped with cuffs, handles, door attachments, and other types of accessories. I suggest you get the most out of your buck by purchasing the one fit for you, but also making sure that they have a few add-ons so you can try even more ways to train.
Because while the basis is a simple band, you may find after some time that you prefer it with handles for it's easier to you, or that somehow training your lower body would be a good option to you so you need cuffs.
Thus, always make sure you get the most out of your money when choosing to buy exercises bands and that they come with accessories that are right for you. I strongly suggest not to buy tube bands if they don't have any accessories; it would be disappointing. However, it's different with loop and flat bands who are a simple strip of material, so you don't need to worry about accessories with these ones.
Cost: Despite their general inexpensiveness, it is always preferable to stay into your budget, mostly since they're an alternative to costly products and gym subscriptions. Even the cheapest band will give you good results. However, make sure the rubber is not extruded, or manufactured by being pushed into the desired shape, as they break easily.
You want to go with a continuous band, which is safer and stronger to the resistance you put on it. That kind of band has been dipped into a hot so as to get the thickness wanted. Also, those that come with accessories are usually a bit more expensive, about $30, so you need to be certain if you'll use them, or prefer to simply train a single band without door attachments or cuffs to train your lower body.
Level: This is essential as you do not want to train with an unfit level for you – it would not give you any satisfaction nor real training, and might even harm you. You always need to make sure you choose the right level depending on facts such as if you're a beginner, in need of rehabilitation, or simply looking for a good level or a challenge, etc.
Accidents can happen and you don't want to hurt yourself unnecessarily. Although, you can go progressively with it, which I think is the best and safest way. Identify your resistance need and goal, then make a choice accordingly.
These are the main factors to look out for in a resistance band in order to decide which one is the one you need. Be sure to think it through and know that, whatever band you buy, it's going to be a welcome plus to your daily life and health, as well as a good solution to those missed workouts due to lack of time and easy to store so it won't hoard your house like most training tools and machines.
You Can Now Make a Decision
Since you now know the topic better and are aware of all the types and their properties, picking the best fit for you is going to be a charm. Keep in mind that a continuous band is highly preferable to an extruded rubber one. On this, I know you'll make the right choice for you and your fitness goal.